If you need rights to use my works or something else you can contact me at this email:  dhoeweler@gmail.com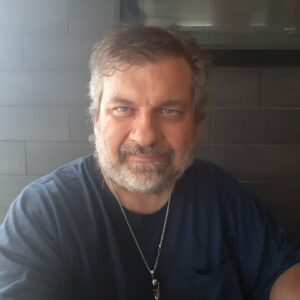 Hello, and welcome to the website of Author and Poet Dan Hoeweler.  I wrote these poems over the last 12 years to help illustrate my life and struggles with severe mental illness.  The poems about psychosis are experiences that occurred throughout my twenties and the later poems are about more recent events in my life after I started recovering in my early thirties.
Currently I work full time as a delivery driver and business owner, and write during my off time. I am currently able to live a relatively "normal" life due to the medication and support I receive.  I think one way I cope with my illness is by trying to write and rationalize the things I have experienced.
I have worked as a peer support specialist, and am certified by the State of Ohio in this manner.  I taught computer classes for years but left due to stressful work conditions.  Working there helped me realize the various ways mental illness manifests itself. It was a useful, but oftentimes stressful, resource to better understand my condition.
Currently I reside in Cincinnati Ohio, a city that is currently undergoing a renaissance and gaining recognition in the art world.  I live alone in a beat up three story house that I purchased for under 30 K just after the housing crash.  My cheap lifestyle and the affordable housing market in Cincinnati allows me to spend my days at Coffee shops writing and dreaming.
The medication I take has allowed me to live a relatively normal life.  Without it I would never have the courage or focus to write about the many struggles I have endured.  Schizophrenia is not a one way street.  With proper self care people can recover from even the most extreme forms of mental illness.
I will continue to update my poetry blog on a monthly basis, so come back for additional content as I produce it.  Thank you for visiting!