If you need rights to use my works (which I usually grant) or something else you can contact me at this email:  schizophreniapoetry@gmail.com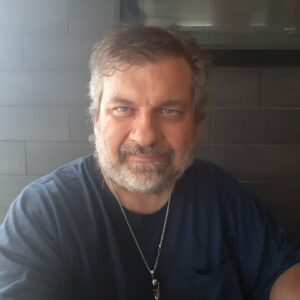 Though I currently live a ordinary life in many respects, my past is littered with delusions, hallucinations and homelessness.  It is only through the help of many that I have come to heal myself and have been afforded the opportunity to tell me story, as my illness has softened greatly over the last decade. This website has allowed me  to confront my jagged past and use prose and stories to retell some of the pain and torment I and many others have gone through.  It is also a useful reference for people who better wish to understand the inner workings of the psychotic mind, and find this disease difficult to understand.
I have worked as a peer support specialist in the past, and am certified by the State of Ohio in this manner.  I taught computer classes for years to mentally disabled students, but left due to a lack of reasonable pay and stressful work conditions.  Working there helped me realize the various ways mental illness manifests itself and allowed me to understand myself better by meeting people in similar circumstances. My credentials can be seen below:
The majority of the poems I write are directly related to experiences that I have had, with a small number of exceptions that where mostly written earlier in my writing career. From having worked with the mentally ill in the past, I know that some of these experiences overlap with other people that have psychotic disorders.
Currently I spend my time writing poetry and articles while trying to pay the bills working odd jobs. Thanks to my medication I have been able to move on with my life, but my past still haunts me and I am a bit traumatized by everything that I have gone through. I think one way I cope with this problem is by trying to write and rationalize the things I have experienced in the past. Writing poetry about my psychotic experiences helps me to see these psychotic episodes for what they truly are: the product of a mind that wants to destroy itself.