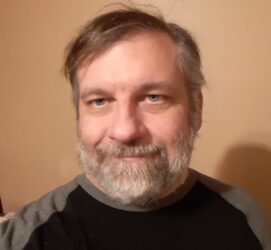 Fourteen years ago I started writing because I was having difficulty coping with my disabilities.  Putting my experiences and thoughts on paper helped me think more clearly about my situation, where I was headed and ways that I could improve my life.  I later sent my writing to a local street paper that decided to publish my work.  From that moment I knew that I was meant to be a writer.  It gave me identity and helped keep my mind off my many troubles.
Fourteen years later I find myself reminiscing about the past, looking back at at my personal evolution from a nomadic delusional cripple to a functional individual.  Over time my illness has become more distant and otherworldly  as if it were a nightmare conjured up one night in a decade long sleep.  A combination of sleep therapy and medication had awoken me from this reverie in my early thirties and I began to tread the pathway to recovery.
My recovery took me through a series of diagnosis including Schizoaffective Disorder, Manic Depression with Psychosis and a severe sleep disorder.  It took me through a series of doctors and quacks and medication.  It destroyed a huge part of my life and yet despite it all I am writing to you with a sense of ease and peace I previously never thought possible.
My recovery journey was not traveled alone however.  There were people pushing me along the way.  I'd like to thank all those who helped me on this journey;
I'd like to thank "The Hamilton County Recovery Center" for helping me better  understand my condition.
I'd like to thank my parents for somehow putting up with my occasional bad behavior and sheltering me regardless.
I'd like to thank NAMI for educating my parents about my illness.
I'd also like to thank my psychiatrist and doctors for finally giving me the right treatments and medication.
Though I will never be cured, you all gave me a life I never thought possible.
Thank You.
If you need rights to use my works or something else you can contact me at this email:  dhoeweler@gmail.com