If you need rights to use my works or something else you can contact me at this email:  dhoeweler@gmail.com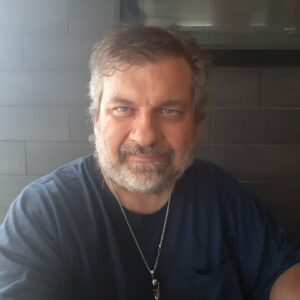 Hello, and welcome to the website of Author and Poet Dan Hoeweler.  I wrote these poems over the last 12 years to help illustrate my life and struggles with severe mental illness.  The poems about psychosis are experiences that occurred throughout my twenties and the later poems are about more recent events in my life after I started recovering in my early thirties.
My medical history is complex and throughout my lifetime I've received various diagnosis including Schizoaffective Disorder, Manic Depression with psychosis, ADD and a severe sleep disorder.   The three primary characteristics of my illness are sleep deprivation, psychosis and emotional instability.  The unusual set of symptoms I experience make my diagnosis somewhat ambiguous.  I treat  my illness with medication, diet and exercise which has allowed me to function at a reasonable level.
Currently I've focused my writing about the potential negative consequences of technology including unrestricted advances in artificial intelligence, mass surveillance and automation.  I hold a bachelor's degree in Computer Science from Boston University and am currently taking online courses in Cyber Security through IBM.
I have worked as a peer support specialist, and am certified by the State of Ohio in this manner.  I taught computer classes for years but left due to stressful work conditions.  Working there helped me realize the various ways mental illness manifests itself. It was a useful, but oftentimes stressful, resource to better understand my condition.
The medication I take has allowed me to live a relatively normal life.  Without it I would never have the courage or focus to write about the many struggles I have endured.  Mental Illness is not a one way street.  With proper self care people can recover from even the most extreme forms of mental illness.
I will continue to update my poetry blog on a monthly basis, so come back for additional content as I produce it.  Thank you for visiting!